OK, I know what you are probably thinking….not another Wahl Oxford post…..and you are probably right in thinking this.  But, I could not resist sharing this new variation (to me) with you.  In my last Oxford post, dated November 19, 2008, I discussed the restoration of a red marble Wahl Oxford (link below).
I didn't think I would stumble upon another pattern so quickly, but I did.
I did not save the before photo on my camera, but here are two photos of the finished product.  I needed to put a new large j-bar and size 18 sac in the barrel.  Aside from vigorous polishing, there were no more repairs done.
The pen measures 5 1/4 inches capped and 6 1/2 inches posted.  All barrel markings are consistent with other Oxfords of this style.

There is one major difference in this pen, compared to the other three Oxfords that I own.   The nib, pictured here, is a Wahl Oxford Number 2.  The others that I have all have Warranted 14K Number 3 nibs.  There is no major difference in size or performance, though this writes with a broader line.
As with the others, the clip and lever are a gold plate and when I got the pen, they had lost more than half of their gold color.  So, I polished these parts to a silver finish to give them a uniform color.  The two cap bands did not polish out and I wonder why the difference in finish?

Here is an updated photo of the four Wahl Oxfords.  As I have written before, these were produced by Wahl in the 1930s, and were a "budget" line under the popular Dorics of the same time period.
Can there be more?  Let me know if you have this model in more than these four colors.  I would love to see photos.
This week brought a dark red (burgundy?) marbled Wahl Oxford pen to be restored.  It is a lever filler, though the Oxford brand was also made in a twist filler.
The barrel was quite scratched from years of use and the sac was shot, though it did come out in one hard piece.  It is always nice when this happens, as it prevents the need for extensive scraping.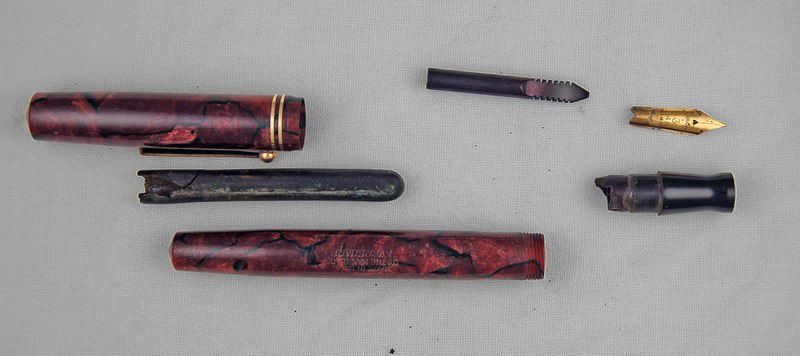 I cleaned the pen thoroughly, including light buffing to remove some of the scratches.  After completely removing remnants of the old sac from the section, cleaning the nib and feed, I attached a new size 16 sac to the section.  I was able to use the old j-bar in the barrel, and after fitting the section/feed/nib back into the barrel, a water test was successful and the pen filling system works like new.
I then polished the outside of the barrel.  The clip, which reads "Wahl Oxford", has a light gold wash on it. so I was very careful to gently clean this so as to preserve any remaining gold to match the lever and nib.
This pen comes with a Warranted Number 3 14K nib, as do all of the Wahl Oxford Lever fillers I have worked on.
The pen measures 5 1/4 inches capped and 6 1/2 inches posted.

I have know of no way to pinpoint the date of manufacture, but Wahl Oxfords were produced by Wahl Eversharp in Chicago around time period of 1931-1940.
They were a lower price point pen produced by Eversharp to provide a cheaper alternative to the higher priced Doric line of the same period.  Wahl Dorics are a very desirable collectible today and highly sought after in good conditions.  The Oxford provides a more affordable entry into Wahl Eversharp pens of the period, as it did in the 1930s.
I have highlighted the imprint with white crayon.
MADE IN USA
BY THE MAKERS OF
EVERSHARP

I currently own two other Wahl Oxfords:  a brown marble, and green marble.  Here are all three, with an original box.
I love trains, especially old ones and there is a nice tie-in to fountain pens. Henry Dreyfuss, a noted industrial designer of the 20th century, actually assisted in the design of the Wahl / Eversharp Skyline. The Skyline was produced by Wahl in Chicago, IL. during the period 1941-1948. In 1945, it was the best selling pen in the US. Mr. Dreyfuss designed the 20th Century Ltd (shown below) in the late 1930s, prior to the 1940 design of the Skyline. More information can be found on him by clicking on his name above.
New York Central – 20th Century Limited
Now, let's take a look at his pen design. I have posted a picture of the clip and bonnet of the pen next to the front of the train and you can see the similarity. Below is a picture of three burgundy Skylines that I have restored over the last couple of years. They are lever fillers and very easy to restore, except for two things. The barrels tend to be quite brittle and are notorious for cracking if care is not taken when separating the section from the barrel. Gentle heat is recommended and I use my heat gun carefully. Also, the later Skylines had breather tubes which can be tricky to restore as they also tend to be brittle and care needs to be taken here as well.
Eversharp Skylines were produced in numerous colors, designs and caps over the 7 years of their production. Three sizes were available: Executive, Standard, and Demi. Most of these pens found today are of the standard size. The Eversharp nibs I have found in these pens have been in quite good condition, and some can be found with a bit of flexibility.
December 2013
M
T
W
T
F
S
S
« Nov
1
2
3
4
5
6
7
8
9
10
11
12
13
14
15
16
17
18
19
20
21
22
23
24
25
26
27
28
29
30
31

Blogroll

DISCLAIMER

To me, restoration is the resurrection of an old, often neglected, pen and repairing it to as close to its original condition as possible. I attempt to use original parts in all restoration and will always indicate whether a pen has been restored using any substitute parts. I believe in polishing pens to make them look closer to their original condition, but not in recoloring a writing instrument. I have a large inventory of previously restored pens that I will post from time to time, but my goal is to follow current restoration projects.

I am NOT a professional pen technician/restorer/craftsman or historian. I do NOT sell pens or services. I am not publishing this to further a business. I welcome your use of the information and it is for your enjoyment. I do this only as a hobby, and do make mistakes from time to time. Should one be interested in professional restoration advice or service, some of the links on this page would be a good place to start. This discourse is for entertainment purposes only and I hope the reader will enjoy some of the information shared.

Addendum ~ After researching, restoring , and writing close to 200 posts as I write this in November of 2012, it has come to my attention that some readers are pasting large portions of this blog into their own blogs, making my research and photos appear to be their own. I do not mind that you link to my blog, but do not cut and paste my information and photos to your websites in its entirety. This is deceptive at least, and theft at most.

Top Posts

Recent Posts

Archives

Meta