George Michael Kraker made pens all over the Midwest (Kansas City, Chicago, Minneapolis, and Grand Haven, MI. All of these have been well covered in various posts over the years here. Libertyville, IL was his final stop, at least as far as the major production of pens is concerned. As varied as his stops in the Midwest were the brands of pens he made. Click on the blogroll at the right for Yankee, Belmont, Pencraft, Drew, and Monogram pen brands, and his influence is evident. Dixie Pens were a later model of his, perhaps to counterbalance his earlier and lasting Yankee brand. They were usually well made, colorful and often sporting contrasting colored cap and/or barrel ends.
This week's project is no different, although a pattern I had not seen in person before. My friend, the late Dennis Bowden, had a few that he shared photos of with this pattern and I had always hoped to find one.
As you can see below, the pattern is a green and black plastic swirl.  Nothing exceptional to the pen – it is a standard Kraker lever filler, with the locking lever.
The sac had hardened, and the hanging lever system was still in place and functional.  Having an intact sac allows one to compare sizes, though I know that these usually take size 16, it is nice to have an old one to compare.
The nib is a Warranted No. 3.  Other Dixie's that I have have all been made in Grand Haven, MI, except for a large yellow one, and had a mixture of Warranted and Dixie Nibs.  It needed quite a bit of careful cleaning, which was done with Pentiques metal cleaner and a slow dremel.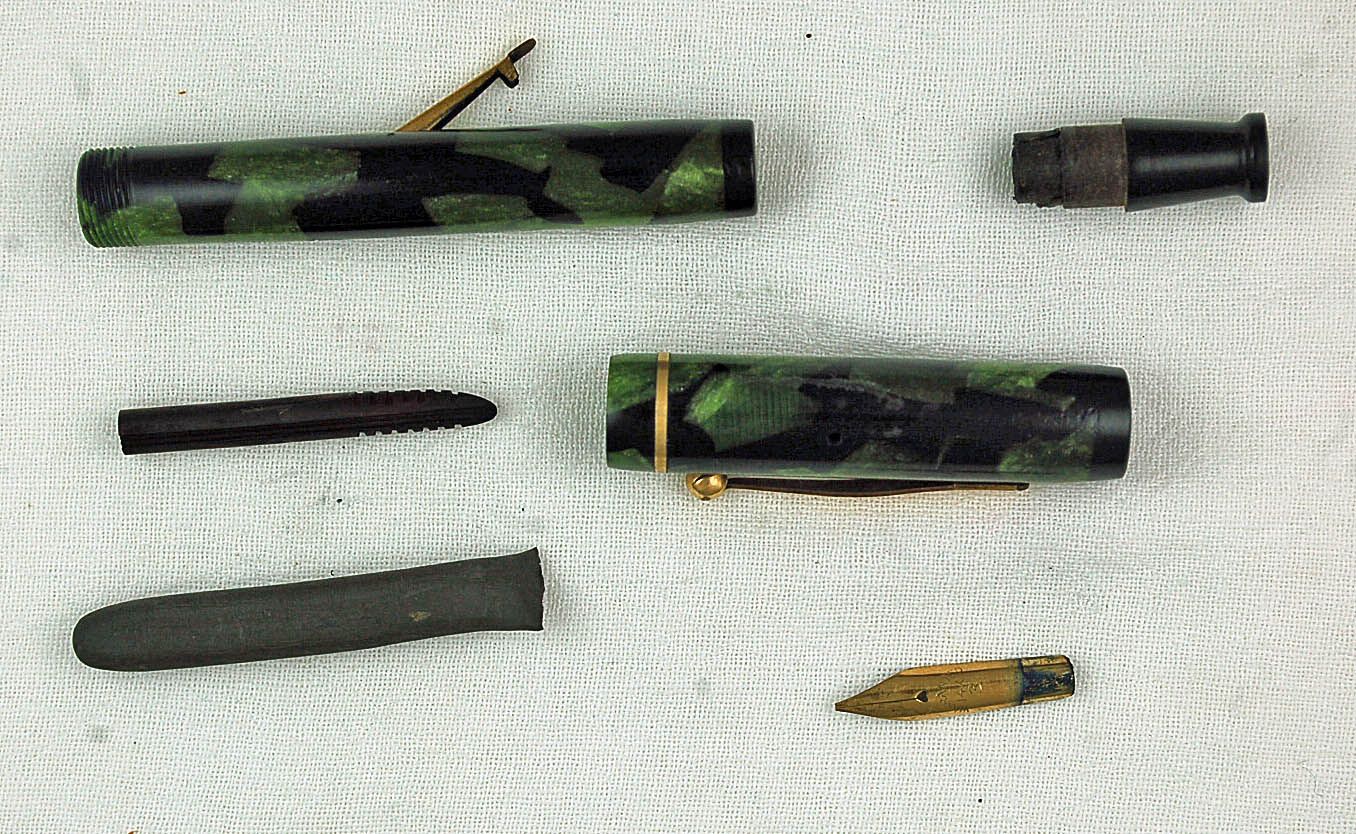 The section and feed were cleaned thoroughly using qtips for the section, after the old sac was cleaned off, and with an x-acto knife for the feed and its various grooves.
The inside of the cap was completely cleaned as I like to remove all the pesky ink deposits that like to reside here. The outside of the barrel and cap were polished along with the clip and cap band, which are not cheap plate and hold up well to polish.
The final result of this smallish pen is below.

The pen measures 4 1/4 inches capped and 5 3/4 inches posted.
I would be interested to see if there is a corresponding large pen, with No. 8 nib, as many of the surviving Dixie's are this larger size. I am always on the lookout for these and look forward to more patterns and sizes.
A pen friend jokingly suggested that maybe I should change the name of this to Kraker Fountain Pen Restoration. I do apologize for the frequent post on these related pens and ephemera, but I keep finding them and other collectors tend to alert me to their existence.  I keep thinking that I have seen most of the variants that I want to, and then another pops up, like the one in this post.  Back on November 1, 2010 I wrote about a Yankee Pen that I restored for a fellow collector – Moore Tuscan And A Yankee Surprise II - that had the first Yankee nib that I had seen.  This week's pen provides the second.
Below is a photo of the pen after I took it apart.  You can see that the sac was in one piece, though hardened.  Also, there is significant staining around the threads on the barrel where the cap sits.  This is very typical of vintage pens as the ink finds its way into the cap and then to these threads.
Also, the cap band is missing – a sad thing – as the color on this pen is very very good.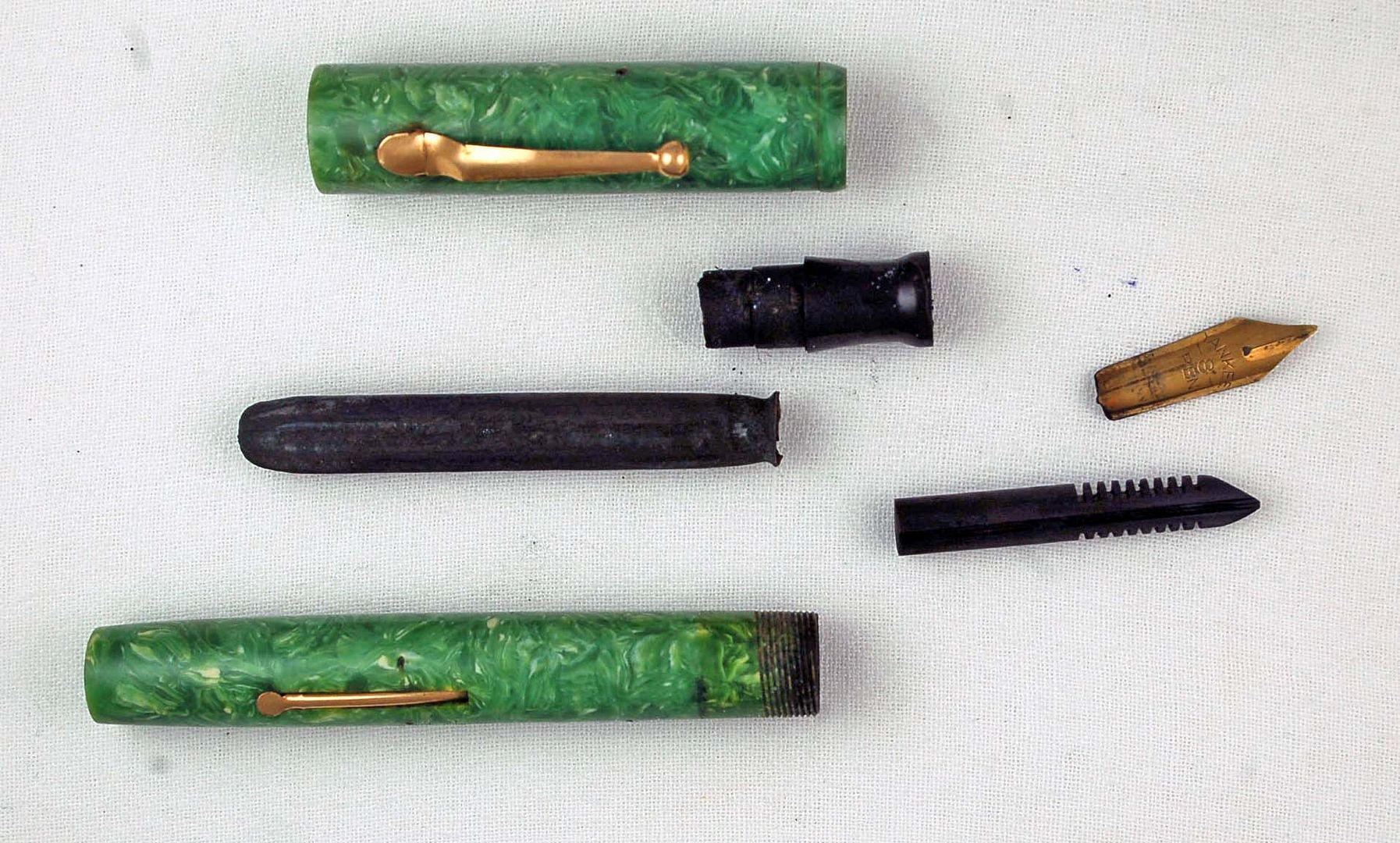 A reader asked if I would post a few action photos, so I will do so in some coming posts.  This week I will show three related to the feed and section.   After taking the pen apart, I cleaned off the old sac remnants from the section nipple.  You can see this process in the first photo below.  I first use an exacto knife to do this over the entire area.  Be careful not to be too aggressive as you do not want to damage the nipple, which will force you to find another…  After this step, I take some sand paper and further sand off the remnants to make a perfectly smooth surface to cement the new sac to.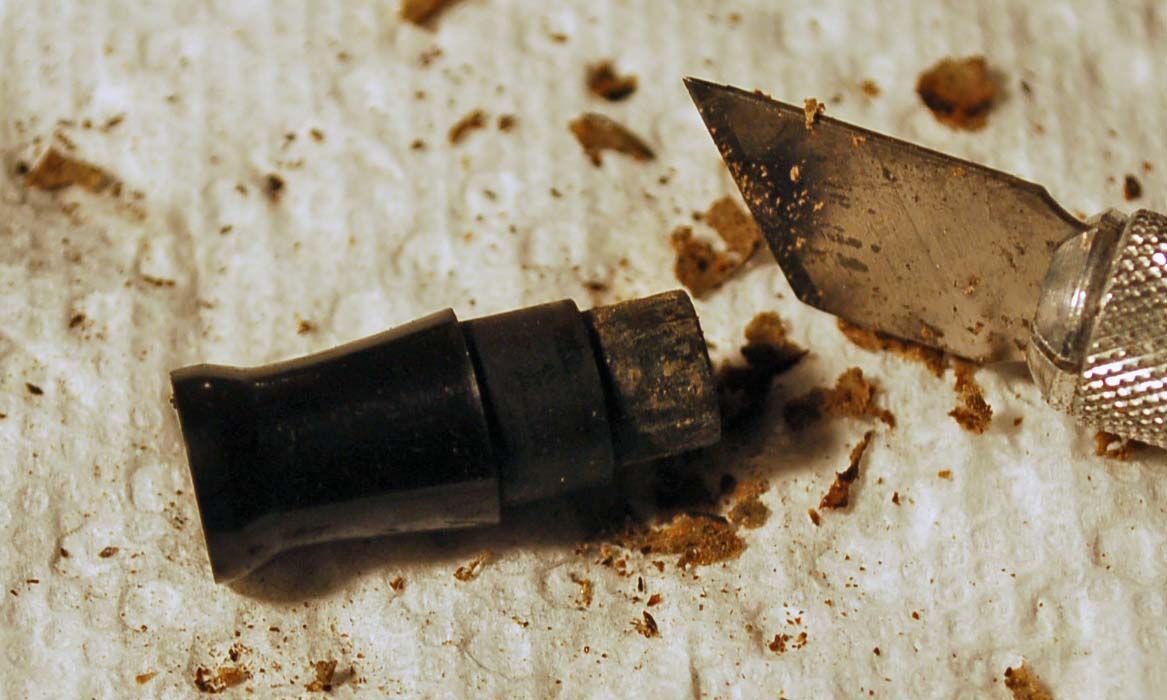 I then cleaned the feed.  I first wipe it down, cleaning the old ink and dirt from the outside.  I then take a knife and gently clean out the channels of the feed.  You will be surprised how much old ink and grime comes out of these channels.  Be careful not to damage the channels.  Typically there are smaller channels within the large channel seen.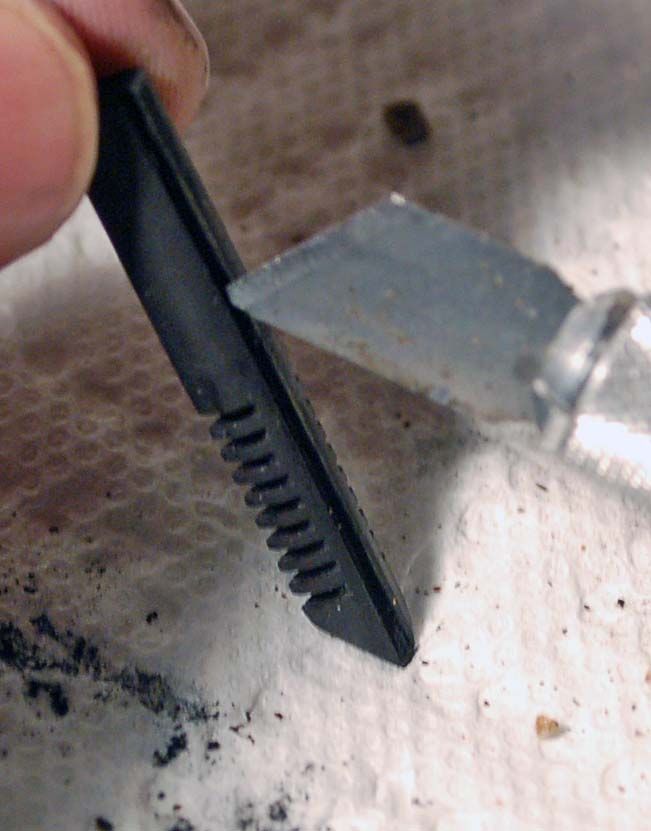 Skipping back to the section, I then clean the inside with a q tip and water, dipping the q tip in the water and swabbing the inside of the section.  This will take several q tips, especially for a pen that has been used often.  It is interesting to find out what ink was used last in the pen.   You can see that this one was black.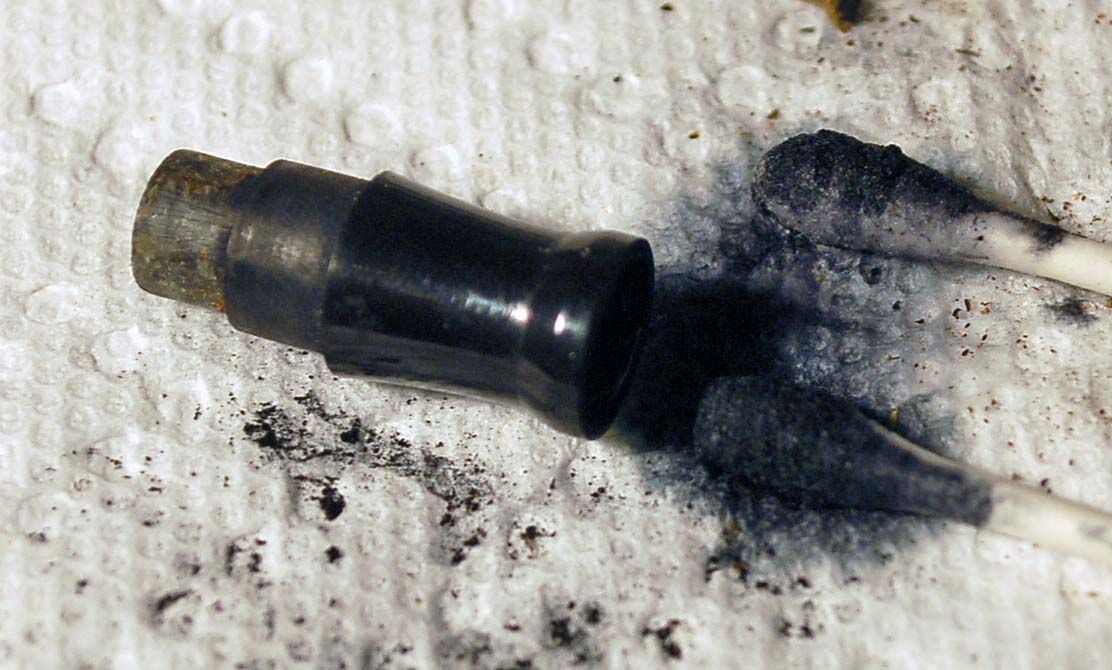 After these steps, I reinserted the polished nib and cleaned feed back into the dry and clean section.  I then attached a size 18 sac to the section and let it dry.  Shifting to the cap and barrel, I polished them with scratch remover and polish.   There were the standard surface scratches, but you can see that the color was excellent.  I am not sure why, as these green celluloid pens usually discolor over time, but not this one.  I also spent considerable time on the barrel threads, removing the old ink stains from the inside of the cap.  The inside of the cap also was cleaned to remove all traces of old ink to prevent this from reoccurring.
Here is the finished pen, a mid 1920s Yankee, produced by the Michael George Co. (George Kraker) of Grand Haven, Michigan.  I am searching for a matching cap band and when I find one, this will be the pen I put it on, due to its excellent color.

Measurements are 5 3/8 inches closed and 6 3/4 inches posted.

A clean, crisp imprint with the familiar Non-Breakable claim.

The highlight of this pen is the nib.  It is the second Yankee nib I have seen, and a much larger No. 8.   The down side is that the tip is chipped and in need of replacement iridium.  I am not sure if I want to spring for this, but given the uniqueness of the nib, I might be tempted.
Kraker also produced a Green Dixie in Grand Haven, with a large Dixie No. 8 nib in Grand Haven.  Photos of this pen can be seen here in my post of August 1, 2008, titled – A Dixie in Michigan.
I won' t link to all of the articles that I have written on these Kraker related pens, but if you are interested, just click on Kraker, Yankee, Dixie, Belmont, or Pencraft in the Blogroll on the right of this page.  Quite an interesting time line and assortment of pens and brands (at least to me).
I just received sad news that a friend and fellow collector Dennis Bowden passed away yesterday.  Dennis was a wonderful man, deeply interested in fountain pens, their preservation, and their history.  We traded information regularly and shared a keen interest in Kraker pens and their sometimes mysterious past.  Dennis was always willing to answer a question or trade theories, without ever getting involved in arguments or conflicts that other collectors generated.  He was always the voice of steady reason and just wanted to search out historical information, with the understanding that even if we never find all the facts, the hunt is the fun.  His passing has saddened me, and maybe another collector had it right when he said ~ "these are just pens".
I looked through my repair queue today and found the perfect pen to restore today – a pen that Dennis would have liked – an early 20s Minnesota Pen Company – Winter Robbins.   George M. Kraker and his Minnesota Pen Company produced these pens, presumably for the Winter – Robbins Stores.  I recently ran into a Minneapolis / St. Paul pen expert who confirmed to me that Winter Robbins was a Twin Cities store.  I have collected several of their pens over the years and I know that Dennis had a few as well.   So Dennis, this one is for you.
Here is a photo of the pen after I took it apart.  It is a lever filler, using the distinctive Lotz lever, common to his early pens.  As you can see, the old sac came out in just a few large pieces.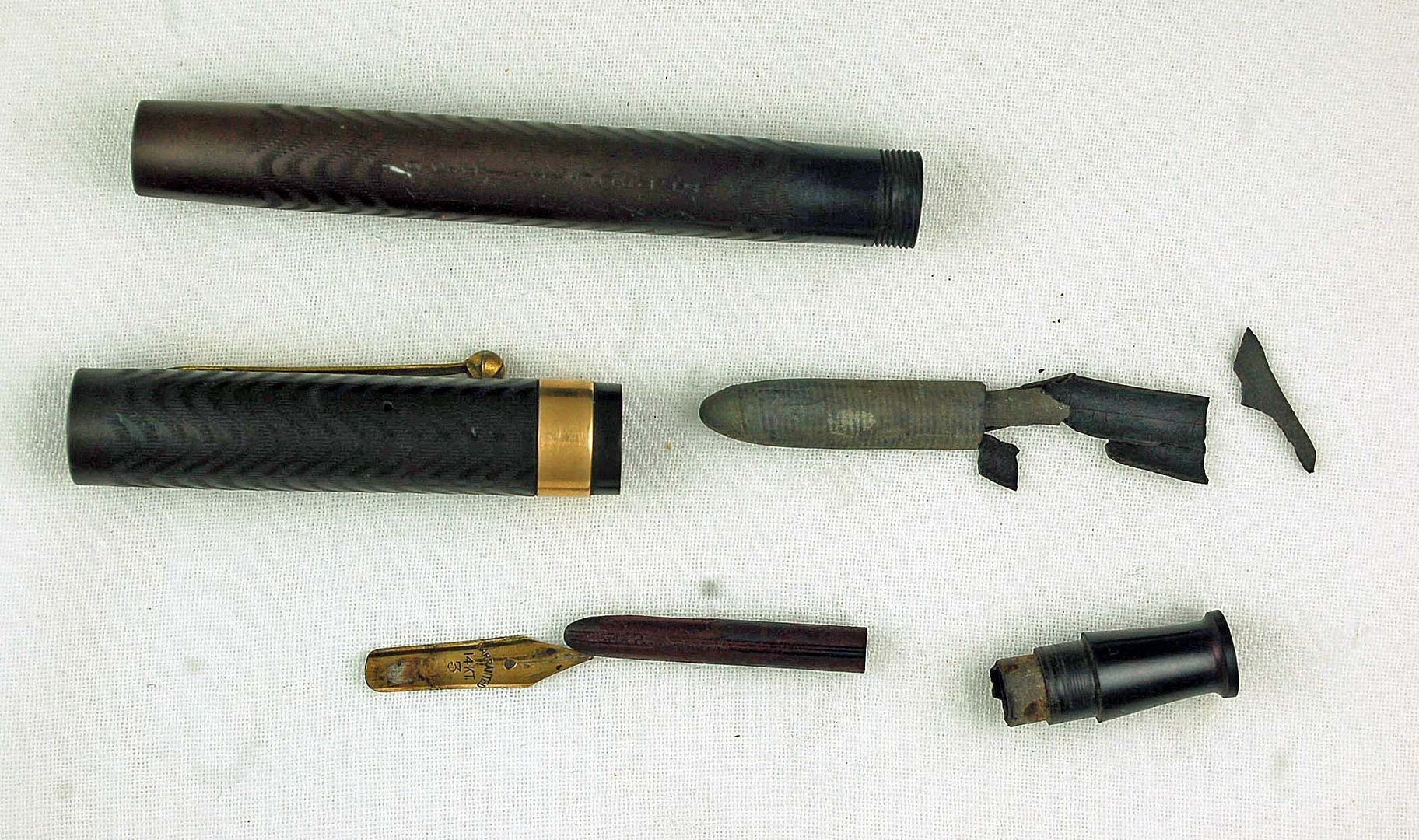 As this is a BCHR (Black Chased Hard Rubber) pen, I kept all of the pieces away from its enemy – water.  I scraped the section to remove all remnants of the old sac and adhesive.  I also cleaned the feed gently with water and scraped the channels clear with an x-acto knife.  I used metal polish on the Warranted No. 3 nib and it looks as good as new.  Many of Kraker's early Minnesota pens have cheap furniture, but the Winter Robbins pens often can be found with gold bands.  This one has a very wide gold band that is clear, presumably engraving could have been included.
The completed pen is below.  It measures a long 5 9/16 inches capped and 6 3/4 inches posted and is quite wide as well.


Below is the logo on the Hard Rubber, reading
MINNESOTA
WINTER ROBBINS CO.
ST. PAUL,  —-  PAT'D

An additional photo of a Winter Robbins pen can be seen in my post dated December 7, 2007 – Hard Rubber Midwest Style.  Several other posts relate to George Kraker and his pens and can be referenced by clicking on Kraker links in the Blogroll to the right of this post.
The only blemishes on this pen are the fact that the barrel has started to turn brown as these old hard rubber pens are prone to do, and there is a small chip on the reverse side of the cap, near the cap band.  I filled the pen up with Sheaffer  Peacock Blue and the pen writes well.  I will use it for this week in memory of my friend.
December 2013
M
T
W
T
F
S
S
« Nov
1
2
3
4
5
6
7
8
9
10
11
12
13
14
15
16
17
18
19
20
21
22
23
24
25
26
27
28
29
30
31

Blogroll

DISCLAIMER

To me, restoration is the resurrection of an old, often neglected, pen and repairing it to as close to its original condition as possible. I attempt to use original parts in all restoration and will always indicate whether a pen has been restored using any substitute parts. I believe in polishing pens to make them look closer to their original condition, but not in recoloring a writing instrument. I have a large inventory of previously restored pens that I will post from time to time, but my goal is to follow current restoration projects.

I am NOT a professional pen technician/restorer/craftsman or historian. I do NOT sell pens or services. I am not publishing this to further a business. I welcome your use of the information and it is for your enjoyment. I do this only as a hobby, and do make mistakes from time to time. Should one be interested in professional restoration advice or service, some of the links on this page would be a good place to start. This discourse is for entertainment purposes only and I hope the reader will enjoy some of the information shared.

Addendum ~ After researching, restoring , and writing close to 200 posts as I write this in November of 2012, it has come to my attention that some readers are pasting large portions of this blog into their own blogs, making my research and photos appear to be their own. I do not mind that you link to my blog, but do not cut and paste my information and photos to your websites in its entirety. This is deceptive at least, and theft at most.

Top Posts

Recent Posts

Archives

Meta