The Story behind this restoration takes place in Camden, New Jersey, just across the Delaware River from Philadelphia, Pennsylvania.  In the mid 1800s Esterbrook Pens began in Camden and stayed there until the 1960s.  I have also written about other Esterbrook Pens in the following posts ~
Fountain Pen Restoration 101 – dated May 8, 2008
Esterbrook Pastels – dated July 5, 2011
Esterbrook Nurses Pen – dated August 5, 2011
As you can see below, the Nurses Pen looking pen came to me in quite a state of disrepair and was very dirty.  As discussed in the past, these probably date to the 1950s and are larger in size to the standard pastel pens.  The previous nurses pen that I restored (August 5, 2011 post) had black jewels.  This pen comes with red jewels, similar to some nurses pens, presumably to hold red ink.  This one is a bit different as we will see below.
First for the cleanup and restoration.  As mentioned, this pen came with many purple ink stains (inside and out) and many caked on dirt/grime stains.  This is a bit more problematic with a white pen, obviously, but nothing that a bit of elbow grease can't solve.  I started by soaking the barrel, cap and nib unit in an ultrasonic cleaner.  Make sure to do each separately, as the ink from each can stain the outside of the barrel and cap and make the job that much harder.  After the ultrasonic clean, I scrubbed the outside and inside of the barrel and cap with scratch remover and a dremel at low speed.  This did a remarkable job on the outside of cleaning things up.  The inside of the cap was caked with ink and required repeated doses of water and q tip as well as small toothbrush.  Cleaning the entire cap inside is necessary to prevent the barrel and barrel threads of getting dirty again.  I use a toothbrush and ink nix on the barrel threads and it does a great job of cleaning them thoroughly, even when white.
The nib unit cleaned up well with a combination of the ultrasonic and a jewelers cloth.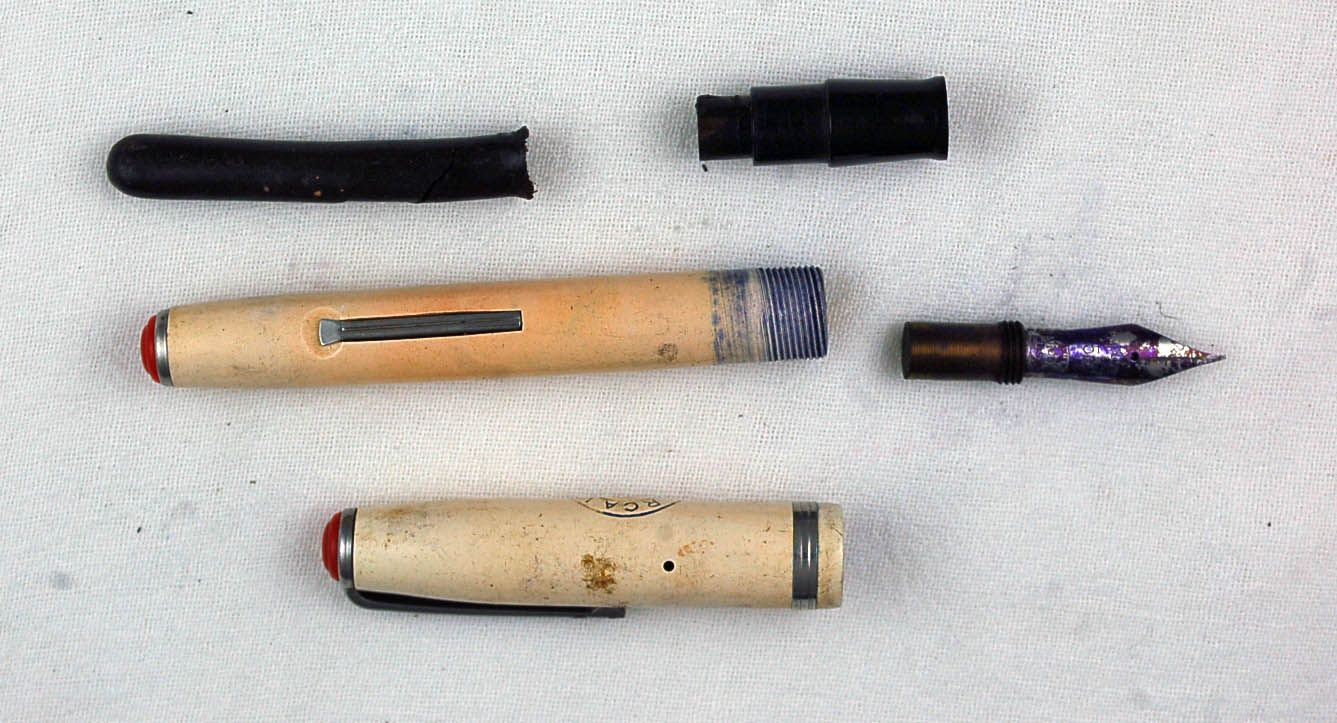 The finished result is below.  It measures 4 7/8 inches closed and 5 7/8 inches posted.


The interesting facets of this pen are the two imprints.  First is an impression of the Corporate logo of RCA Victor A.A. (A.A. = Athletic Association).  The second is "200 Bowling Club".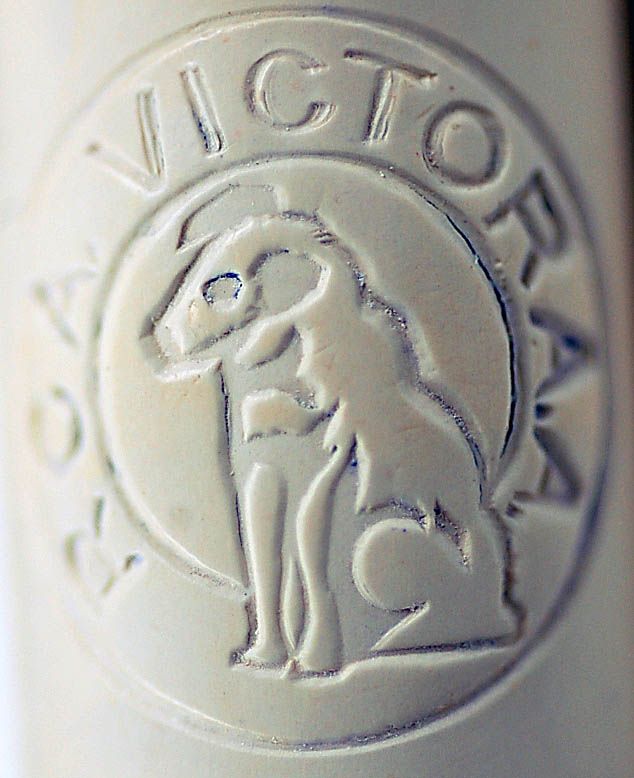 RCA Victor, a merger of RCA and the Victor Talking Machine Company had a large Corporate presence in Camden, New Jersey at the same time that Esterbrook did.  The RCA Victor Athletic Association provided the employees of RCA in the Camden area an organized outlet for a wide variety of sports activities.  Please read this link for a few newspaper articles regarding the organization and some of its endeavors.
My guess is that this pen, conveniently purchased or provided by its local neighbor Esterbrook, was given to bowlers who achieved a 200 average, or score.  I have not seen others, but I wonder if they were all white, or if other colors were used as well.  Given the production period of these pens, this would have occurred in the 50s in Camden.
Another interesting side note that ties the two companies together is that when Esterbrook moved out of Camden in 1964, they sold their old factory buildings to RCA.
Here is a closeup of the red cap end.
Finally, this pen (top) next to the black ended nurses pen from my collection.

Esterbrooks are very common and highly collectible pens that are quite easy to restore.  Even more interesting are the variants that pop up from time to time.  As I have mentioned in the past, please visit Esterbrook.net  for more expert information on this brand.
8-25-12 Edit: Please note this excellent post form Jon Veley's Pencil Blog – Right Next Door – which includes an Esterbrook / RCA "Bowling" pencil.
Nurse pens, not purse pens.  There is a difference when discussing Esterbrook Pens of the 1950s.  In an earlier post – Esterbrook Pastel Pens – I discussed the restoration of an Aloha Gold Purse pen from the mid to late 1950s.  Esterbrook also produced a similar looking pen during this period, the Nurses Pen.  It looks very similar to the pastel line of pens, but is all white.  There actually was a white pastel pen also.  I have seen it with white jewels and there may have been other jewels for the purse pen, though I am not certain.
However, this Nurse's pen is a different animal.  Below, you can see the pen after I took it apart.  As with the pastel pens, the plastic tends to be very brittle and one needs to be wary of cracking when working on them.  The sac on this one was still attached to the section and usable.  I decided to take it off, however and replace it with another size 16 sac.  This is the first, and only white pen that I have owned.  You can see that the threads were very ink stained, as was the inside of the cap.  The jbar inside the barrel was fully functional and there was no reason to take it out.  So, I spent most of my time cleaning the outside of the pen and inside of the cap.   I use Ink Nix on a toothbrush to clean threads and the results are usually very good.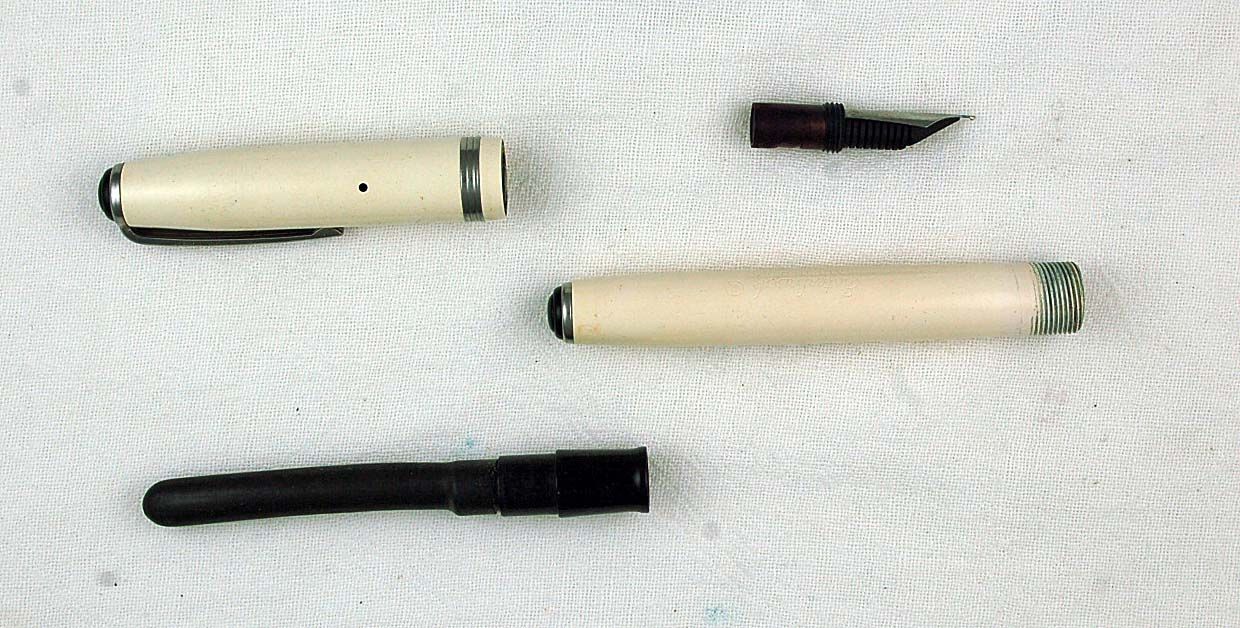 Here is the completed pen with a 1555 Gregg (designed to be used for Shorthand – remember what that was?).

The pen measures 4 7/8 inches closed and 5 7/8 inches posted.  It is essentially the same size as an Esterbrook SJ.

Here is the inside of the cap – clean of all of the old ink stains.  This will assure the barrel threads remain clear of ink stains.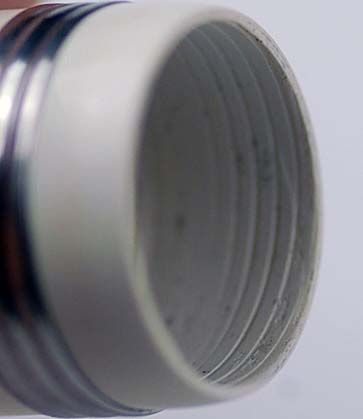 The Nurse Pen Imprint.  I am not an Esterbrook expert at all, but do know that these imprints changed over the years and dating of pens can often be done by the imprint.

The 1555 Gregg / Shorthand nib.  This is not a highly sought after nib, and provides a rather fine line.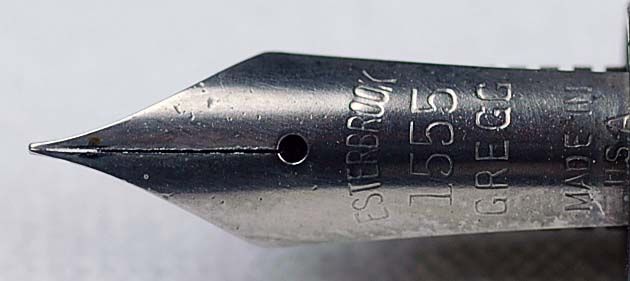 Here is the Nurses pen, next to the Gold Pastel Purse pen from my post of July 5, 2011, Esterbrook Pastels.
Nurses pens came in white, with a variety of jewels.  This is the black jewel model and I have seem them with red and green jewels as well.  These other colors are more sought after than this model, with the green jeweled pen being the most difficult to find.  The cap differences were supposedly to match the different ink colors that a nurse would use.
Esterbrook pens present a myriad of models and colors for the collector – all very popular.  Keep an eye out for these colorful nurse and purse pens.  Though not very practical due to their tendency to stain quickly, they are an interesting side to fountain pen history.
Blogroll

DISCLAIMER

To me, restoration is the resurrection of an old, often neglected, pen and repairing it to as close to its original condition as possible. I attempt to use original parts in all restoration and will always indicate whether a pen has been restored using any substitute parts. I believe in polishing pens to make them look closer to their original condition, but not in recoloring a writing instrument. I have a large inventory of previously restored pens that I will post from time to time, but my goal is to follow current restoration projects.

I am NOT a professional pen technician/restorer/craftsman or historian. I do NOT sell pens or services. I am not publishing this to further a business. I welcome your use of the information and it is for your enjoyment. I do this only as a hobby, and do make mistakes from time to time. Should one be interested in professional restoration advice or service, some of the links on this page would be a good place to start. This discourse is for entertainment purposes only and I hope the reader will enjoy some of the information shared.

Addendum ~ After researching, restoring , and writing close to 200 posts as I write this in November of 2012, it has come to my attention that some readers are pasting large portions of this blog into their own blogs, making my research and photos appear to be their own. I do not mind that you link to my blog, but do not cut and paste my information and photos to your websites in its entirety. This is deceptive at least, and theft at most.

Top Posts

Recent Posts

Archives

Meta