Dubuque, Iowa Fountain Pen
Every once in a while, a pen comes along that fits in with what you collect (Midwest/Vintage) that is a bit of a mystery. This pen is not much of one, but its Midwestern imprint prompted me to pick it up. I am not a big fan of ring top pens, but the Dubuque, Iowa roots of the pen, overcame that.
Below is the pen after I took it apart. The lever is a hanging one, and in good shape, so I left it in.  You can see that the main concern is the dirty yellow barrel and cap, and need of a new sac.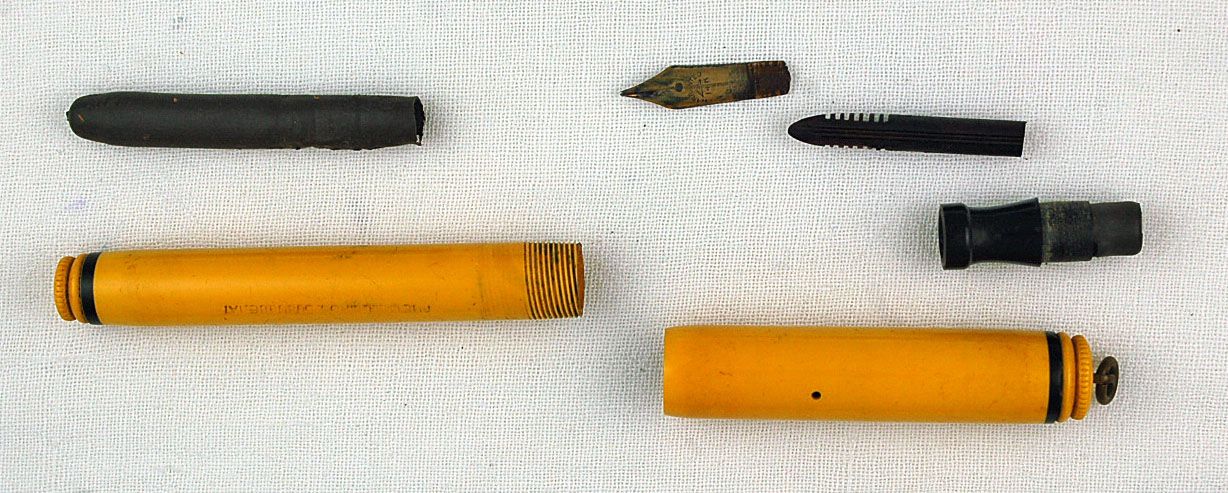 I spent a considerable amount of time cleaning the barrel and cap, both inside and out.  The hardest part was the inside of the cap.  The yellow cap and inner cap were caked with old blue ink and it took numerous trips to the ultrasonic cleaner and swabs with q tips to finish that job.  As you can see, the pen is now very clean.   The threads cleaned up with a toothbrush and ink nix.  I polished the nib on both sides.  It is a very nice Warranted 14K, with a triangle logo.

The pen measures 4 3/4 inches closed and 5 1/2 inches posted.

Here is a close up of the imprint, which reads " RUETTELL BROS. DUBUQUE, IA".  (Edit ~ Buettell – see below)
A brief search of Ruettell Brothers in Dubuque came up empty.  There were Ruettell Brothers Clothing Stores in Crookston, Minnesota, and Grand Forks, North Dakota throughout the 1900s, and certainly during the time of this pen.  My only guess is that they opened a location in Dubuque in the 1920s or 30s and used these as promotional, sales, or employee pens.  I will continue to research the connection, but nothing comes up yet.
Edit:  January 17, 2012 ~  A reader, Mike May, from Dubuque has corrected my reading of the above imprint.  It is Buettell Brothers, not Ruettell Brothers.  He also provided a link to this note in Publishers Weekly of 1893
Dubuque, Ia.—The Daily Telegraph of this city describes the new firm of Buettell Brothers Company, importers and jobbers of books, stationery, etc., as follows: " The firm has only recently been established here and has already proved itself to be one of the live and progressive institutions of Dubuque. It was organ ¡zed in the latter part of January, 1892, and was ready for business and had three representatives on the road taking fall orders in June. The officers of the concern when it was organized were E. A. Buettell, president; Dr. E. R. Jackson, vice-president, and J. L. Buettell, secretary and treasurer. The firm had a commodious four-story building erected especially for their purpose on Iowa Street, between Seventh and Eighth Streets, in the wholesale district. This firm is the only exclusive wholesale house of its kind in the State. They carry a full line of books, stationery, drug sundries and make a specialty in window shades and fixtures. E. A. Buettell, who is considered one of the best posted stationery men in the West, has had charge of the business since its start. The business increased very rapidly, and in September Wm. A. Buettell became connected with the new firm and has now charge of the order department. The constantly increasing business makes it necessary to call its present secretary and treasurer, A. C. Buettell, into active service. He was recently elected to that position and will sever his connection with the H. B. Glover Company on January i. For fifteen years he has been with that firm and for over twelve years has filled the responsible position of book-keeper in their office. The affairs of this house are in the hands of young men born and raised in Dubuque. They are full of push and energy and the trade will find them prompt and reliable in all their dealings. The present travelling force will be increased January I, making in all five representatives. The territory covered extends over the greater part of Iowa, also large portions of Minnesota. Wisconsin, Illinois, South Dakota and Nebraska."
It appears that Buettell Brothers was a long standing business in Dubuque.  A quick Google Search shows that they were also a publisher of Post Cards for years as well, and had a large Office Building for years in the downtown area of Dubuque.  Mike's information certainly puts this 1920s/30s pen in better perspective, as they were a very active business at this time and thereafter.
Encyclopediadubuque.org, another link provided by Mike,  provides this additional information and a photo of the Buettell Building which was demolished in 2001 ~
"BUETTELL BROTHERS COMPANY. One of the cities largest importers and wholesalers in 1911, Buettell Brothers Company was established and incorporated in 1892. Located at 819-859 Clay Street, it was the only exclusive wholesale stationery house In Iowa. Officers in the company included E. A. Buettell, President; W.A. Buettell, Vice President; and A. C. Buettell, Secretary and Treasurer.
In addition to stationery, the company carried special lines in different seasons including valentines and sporting goods for the spring, fireworks for midsummer, school goods for the fall, and holiday goods for winter."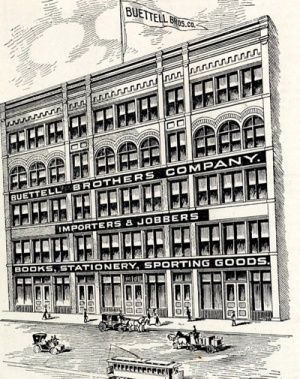 I admit that I am drawn to looking at the cap and barrel ends and they make me think of some National Pen Products pens from the 20s and 30s.  Perhaps they produced these for Buettell – Chicago is not far away….
I have been to Dubuque a few times, and it is a beautiful city on the Mississippi River in Eastern Iowa, across the River from Illinois.  On my next visit I will have to look for a few more of these….
Edit 8-18-12:  I received a very nice email and set of photos of the home of A.E. Buettell, one of the Buettell Brothers, from 1908 (below).  The photo comes courtesy of Mr. Bill Stoffel, current resident of the home in Dubuque, who is restoring the home. The Buettell Brothers are described above.
Thank you very much for this photo, taken a few years prior to the production of this fountain pen, and during the prosperous years of their business in Dubuque.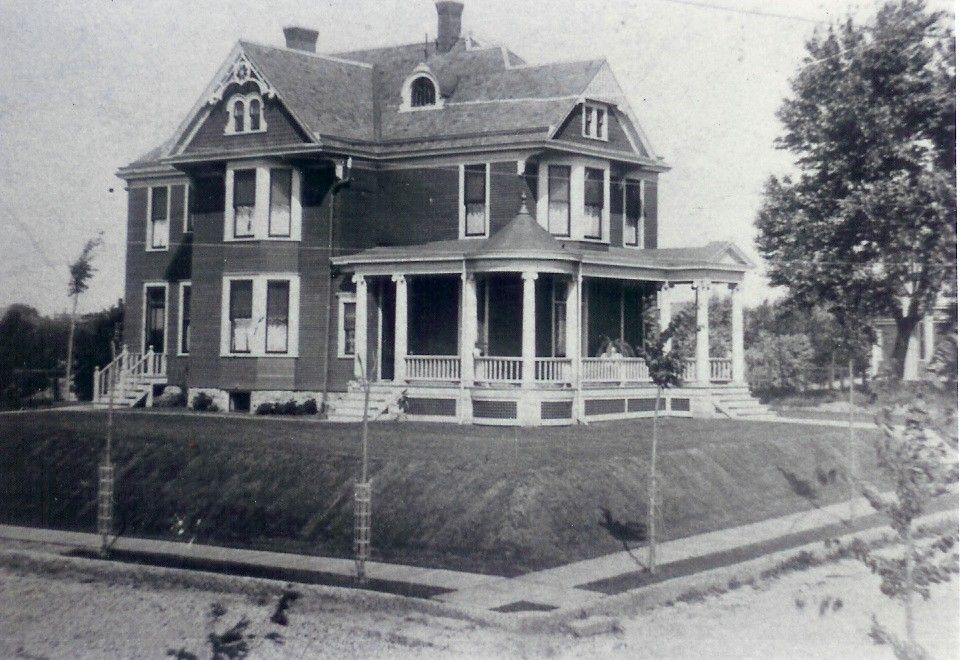 4 Comments »
Good luck !

Comment by Tomo | January 17, 2012 |

That's Buettell with a 'B'. See this 1893 article in Publisher's Weekly on Buettell Brothers Company Dubuque in Google Books: http://books.google.com/books?id=GgMDAAAAYAAJ&dq=Buetell%20dubuque&pg=PA36#v=onepage&q&f=false

Comment by Mike | January 17, 2012 |

Mike,

Thank you! for this valuable piece of information. I will update the site today to reflect your local knowledge and research. I appreciate your help very much.

Phil

Comment by PKM | January 17, 2012 |

Hi, I live in A.E. Buettell's house one of the Buettell brothers who made your pen. I have been restoring his residence over the past 8 years. I do research from time to time to see what turns up under their name. I thought your pen was interesting indeed. I have scans of their house taken in early 1900. I can email you copies if you like?

Comment by Bill Stoffel | August 15, 2012 |
Blogroll

DISCLAIMER

To me, restoration is the resurrection of an old, often neglected, pen and repairing it to as close to its original condition as possible. I attempt to use original parts in all restoration and will always indicate whether a pen has been restored using any substitute parts. I believe in polishing pens to make them look closer to their original condition, but not in recoloring a writing instrument. I have a large inventory of previously restored pens that I will post from time to time, but my goal is to follow current restoration projects.

I am NOT a professional pen technician/restorer/craftsman or historian. I do NOT sell pens or services. I am not publishing this to further a business. I welcome your use of the information and it is for your enjoyment. I do this only as a hobby, and do make mistakes from time to time. Should one be interested in professional restoration advice or service, some of the links on this page would be a good place to start. This discourse is for entertainment purposes only and I hope the reader will enjoy some of the information shared.

Addendum ~ After researching, restoring , and writing close to 200 posts as I write this in November of 2012, it has come to my attention that some readers are pasting large portions of this blog into their own blogs, making my research and photos appear to be their own. I do not mind that you link to my blog, but do not cut and paste my information and photos to your websites in its entirety. This is deceptive at least, and theft at most.

Top Posts

Recent Posts

Archives

Meta